With the Karnataka government withdrawing the 5 per cent entry tax at petrol pumps, both Telangana and Andhra Pradesh governments are poised to lose revenue from the sale of petrol and diesel in the states' borders. The Karnataka government's decision has led to a price difference of Rs 4 in petrol and diesel in Telangana and Rs 6 in Andhra Pradesh.
General secretary of greater Hyderabad petrol and diesel dealers' association Mr Marri Amarender Reddy said that both the governments should wake up before losing any further revenue towards tax on petrol and diesel.
He said that most of the truck drivers fill their tanks with 100 litres, 200 litres or 300 litres at a time. "Due to the variation in prices, the truck drivers will avoid filling tanks in TS or AP. For every 100 liters of diesel, they can save Rs 400 to Rs 600 if they fill in from Karnataka petrol pumps. Both the Telugu states will therefore stand to lose revenue in a huge way," he said.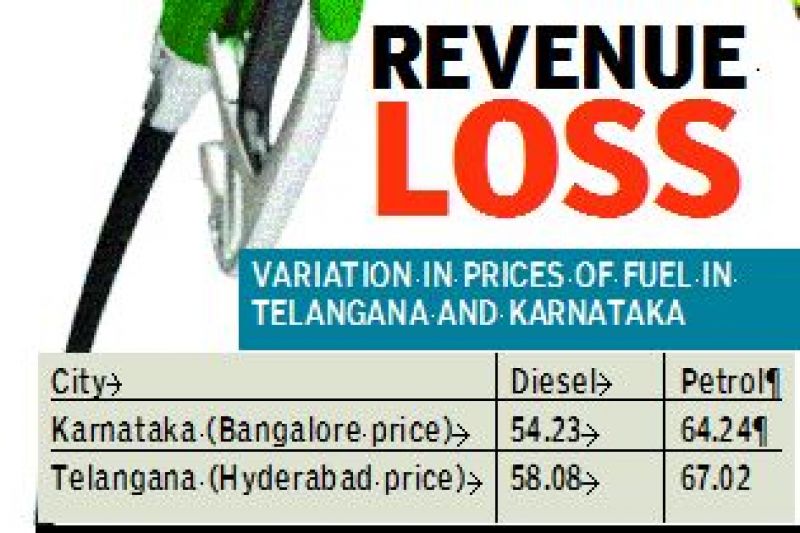 He said that the governments should follow the Karnataka government's policy and withdraw entry tax to avoid losses. "Till June 30, we had the least fuel prices in entire South India and truckers used to approach TS petrol bunks. Now, Karnataka has occupied the first place and will rake in the benefits," he said.
Karnataka is bordered by six states – Telangana, Andhra Pradesh, Tamil Nadu, Kerala, Maharashtra and Goa.
Except for Tamil Nadu, the cost of fuel is much higher in all the other states. The price of petrol and diesel in Tamil Nadu is Rs 2 more than fuel prices in Karnataka.
Similarly, petrol vehicle users from Zahirabad and Narayankhed in Sangareddy district, Tandur in Rangareddy, Gadwal in Jogulamba Gadwal district and Maktal in Mahbubnagar district will visit petrol bunks in Karnataka which borders these localities. Mr Reddy has asked the Telugu states to plan an immediate and effective reply to Karnataka's  decision.