For the first time since bifurcation of the state in 2014, the Assemblies of both Telangana and Andhra Pradesh states will elect three Rajya Sabha members each in 2018, against the normal practice of two and four respectively.
This is due to the re-allocation of the 18 seats of undivided AP.  TS has now got seven seats and AP has 11.
Normally, of the total 18 members, one-third (six) should get re-elected once in two years in the ratio of two from Telangana and four from Andhra Pradesh.

However, to fulfil the Constitutional obligation of total representation allotted to the respective states, from 2018 onwards, Telangana and AP will elect three members each for six years.
This will come as a huge bonus for the ruling TRS, since it stands to bag all the three seats that will fall vacant in 2018 due to its increased strength of legislators.
Comparatively, the ruling TD in AP will get two of the three seats that will fall vacant, while the YSR Congress will bag the remaining one, as per their respective numbers in the state Houses.
Incidentally, this will be the last Rajya Sabha biennial poll for both the states before the 2019 General Elections.
Congress Rajya Sabha members Palvai Govardhan Reddy along with Rapolu Anand Bhaskar and C.M. Ramesh (TD) will retire by April 2018 and the TRS will bag all these three seats. In AP, K. Chiranjeevi and Renuka Chowdary (Congress) and T. Devender Goud (TD) will be retiring. Since the Congress does not have a single MLA in the AP Assembly, it is not possible for the party's retiring members to get re-elected from the same state.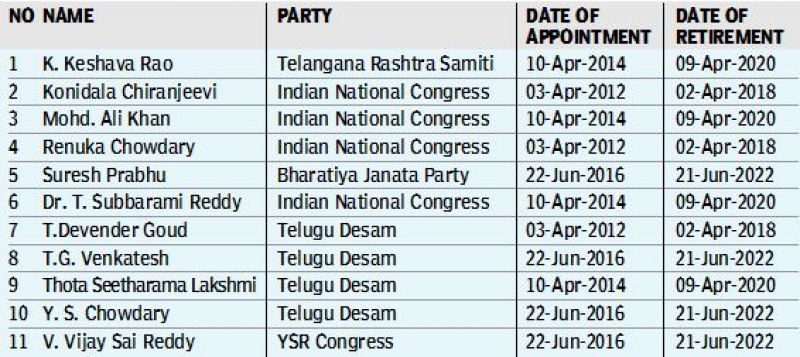 Consequent on state bifurcation, Rajya Sabha chairman Hamid Ansari had re-allotted the then 18 RS members of undivided AP among TS and residuary AP by picking the names in a draw of lots. It so happened that some members of AP origin were chosen for TS and some of Telangana origin went to AP quota. Thereafter, exemption was given for these members to spend the MPLADS funds in whichever state they originally belonged.